Desk to 5K
Published: March 13, 2018 Updated: March 13, 2018
This year's 5K is April 22!
Below is the registration form for this years event. Please fill out the form and return it to our office, or you can get a copy of the form there. If you have any questions please call 573-819-4136, or email heather_phil@mac.com.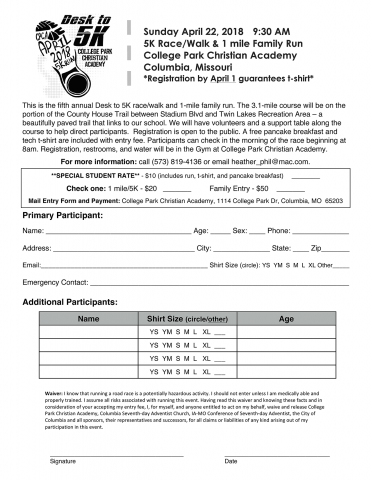 History of the Event
For four years, CPCA has hosted a 5k for our students. This event has given us a creative spin on our physical education program and allowed the students to explore the community trails around our school. The biggest benefit to the Desk to 5k event is that allows us to capitalize on our core value of cultivating physical fitness as the blessing God intended.
Students train for this event starting 6 weeks before the scheduled race date. Training takes place during their regular PE time and students are introduced to proper stretching techniques, appropriate running form, and how to set realistic fitness goals.
Beneficiary
In the past, Desk to 5k funds have been used to support our school and our missionary efforts around the world.
Donate to the Cause
If you would like to support the race but cannot run, send your donation to College Park Christian Academy, 1114 College Park Dr. Columbia, MO 65203.
If you would like to sponsor a student but don't have a contact, please call (573) 445-6315 or email cpchristianacademy@gmail.com.
Course
5K: CPCA Gym -> Portion of county trail from Stadium Blvd. -> Twin Lakes -> CPCA Gym.
1 Mile Family Run: CPCA Gym -> Portion of county trail from Stadium -> Part way to Twin Lakes -> CPCA Gym.