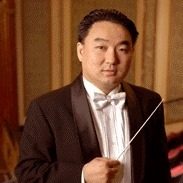 CPCA Band
All students in grades 5-8 participate in the school band program during the direction of Mr. Choi.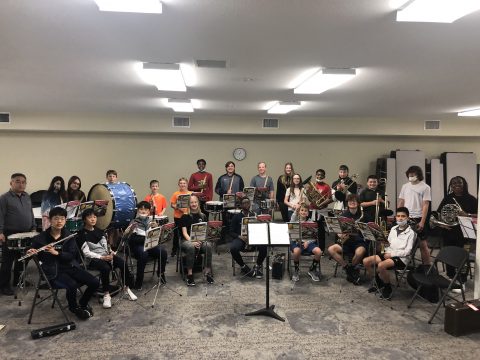 About Mr. Choi
Mr. Joseph Choi, originally from South Korea and now in US for 33 years where he eventually became naturalized US Citizen. Born to Pastor's family where his father served in Brazil as missionary serving as a pastor of Brazil Korean SDA Church and eventually his family came to US when he was 14 years old. Mr. Choi is fluent in Korean, Portuguese, English and Spanish is a graduate of Southern Adventist University in 1995 where he received his BA in Music with emphasis in conducting and trumpet and also was chosen as 2009 SAU Alumnus of the Year. 

Mr. Choi continued his graduate studies at the University of Hartford in Connecticut where he obtained his Master of Music in Orchestral Conducting.  
Mr. Choi taught undergraduate conducting classes, founded Maryland Chamber Orchestra and gave many concerts that include Conducting debut at the Kennedy Center Concert Hall in 2003, Elizabeth Seton Shrine in Emmitsburg, MD, National Shrine at the Catholic University of America and his choirs have received praise from Prince George's County (MD) choral adjudications. He also served as section tenor leader with Baltimore Symphony Chorus where he sang with Baltimore Symphony in a performance of Beethoven Symphony No. 9. During this period Mr. Choi also served as judge for the Maryland All-State Band and Choir auditions, became one of two finalist with US Army Conductor audition in 2003, one of seven finalist with US Air Force Band in 2003, became one of 8 semi-finalist with Portugal's Fundacao Oriente Conducting Competition in 2003, gave Korean debut Conducting Daejeon Philharmonic and with Jeju Symphony. Mr. Choi is laureate in the Conducting. Competition word having participate in France's Besancon Conducting Competition in 2001, Italy's Pedrotti Conducting Competition in 2001, Korean Conductor's Competition in 2001, attended Czech Republic's Bohuslav Martinu Philharmonic Orchestra Conducting workshop with Maestro Kirk Trevor (Music Director of Missouri Symphony Orchestra) and in 2005 became the winner of Macon (Georgia) Conductor worship and flew to St. Petersburg, Russia where he had the opportunity to conduct St. Petersburg "Congress" Orchestra.
After receiving a call from Arizona Conference, Mr. Choi became music director of Thunderbird Adventist Academy (AZ) and served as Music Director of Orpheus Male Chorus in Phoenix and guest conducted Phoenix Symphony. An opportunity to go back to professional orchestra conducting followed where he served as Assistant Conductor of Evansville Symphony (IN), Owensboro Symphony (KY) where he also served as Music Director of Evansville Philharmonic Youth Orchestra and Owensboro Symphony Youth Orchestra and as Music Director of Evansville Philharmonic Chorus. During this time, he also served as Adjunct Music Professor with University of Southern Indiana where he taught USI Chamber Choir and Music Appreciation. Upon his wife Angela's completion of her Masters in Music Education degree, call from Texas Conference came for both of them to serve as music teachers at the Valley Grande Adventist Academy (TX) where they were in charge of Pre-K to 12th grade Music program.  God called Mr. Choi to serve as Music Director of Highland View Academy in Maryland where his music groups toured to Brazil, Chicago, New York, Ohio, New Jersey, Pennsylvania, Maryland and West Virginia sharing God's love through music. Conducting debut at the Carnegie Hall became a reality when he conducted Oakwood University Aeolians and Altino Brother's Chorale from NYC and Orchestra.
He worked as Music Director of Loudoun Symphony Youth Orchestra in Virginia where he developed into 3 different level orchestras and served as an adjudicator with different school districts and served as judge with many music competitions and continue serve as a member of 2021 GC Session Music Committee member in Indianapolis.
God has called Mr. Choi and his family to Sunnydale Adventist Academy where his wife Angela work as a nurse with University Hospital (University of Missouri Healthcare System) in Columbia, MO and their son Nathaniel attends Sunnydale Adventist Academy.   
Mr. Choi can be reached by his email jchoi@sunnydale.org