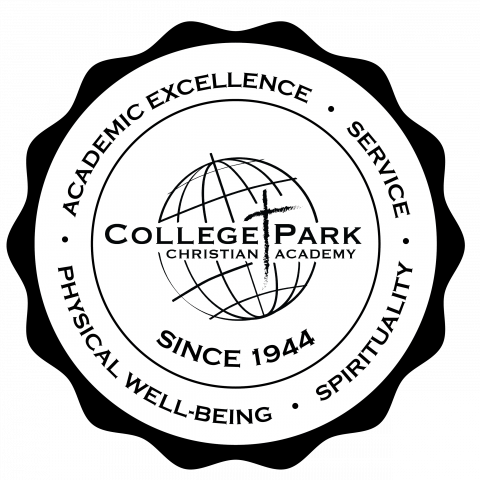 Mission Statement
College Park Christian Academy exists to prepare each of its children for academic excellence, physical well-being, spiritual maturity, and ultimately a saving relationship with Jesus Christ and a place in His service.
Our Philosophy
College Park Christian Academy is operated by the Seventh-day Adventist Church to provide a spiritually- oriented education for children. A belief in the existence of the Creator God is fundamental in our school's philosophy. We respect His divine authority and recognize His intervention in human affairs. We believe that true education develops the spiritual, mental, and physical powers of each student; preparing them for the joy of service in this life and for the higher joy of service in the life to come. To achieve this goal, we encourage each student to:
develop a personal relationship with God and his fellow men as stated in Matthew 2:37-39
master academic skills
value labor, physical and mental, as the blessing God intended
cultivate physical fitness, mental ability, and moral purity as the blessing God intended.
College Park Christian Academy operates in harmony with the guidance and direction of the Office of Education, North American Division of the Seventh-day Adventist Church.
Our History
College Park Christian Academy opened in 1944. Even though CPCA has been around for awhile, it has evolved with the times while keeping our mission of excellent education goals with a biblical background. The school started out as a one-room school and has grown to a two-level, multi-classroom school with a gymnasium and library.
Throughout the years CPCA has also integrated extra curricular instruction that isn't always mainstream. Home economics and sign language have been incorporated into core subjects areas as appropriate. Private music lessons are also available. Options remain flexible to fit the needs and requests of the students and parents.
In 2009, we added to our school by opening a preschool for 2-5 year old children. With an option for full- or half-day attendance, it is set up for regular care or to provide an easy transition into kindergarten.
The newest addition to our school are two new classrooms that were completed in fall 2013 that serve our primary grades. We also added a stand-alone Kindergarten/Pre-K to our curriculum.
Our Community
College Park Christian Academy is located off of Stadium Blvd., a main road that runs through Columbia, Missouri. The school is sheltered by woods, which gives it a country feel.
Columbia is home to the main campus of the University of Missouri, Stephens College, Columbia College and several other educational and cultural institutions. The town is also a major medical community with three hospitals and many excellent physicians.
Columbia is rated as one of the best places to live in the nation. The community enjoys remarkable economic stability due to careful city planning and steady growth over the last forty years. The small city offers a very favorable mix of leading employers in education, insurance administration, healthcare, and industry. Parks and walking trails provide more green space for its citizens than most cities of its size and complexity.
Situated in an educationally rich community, College Park Christian Academy benefits from and contributes to the surrounding community with a population of over 100,000.
For more detailed information about Columbia, please visit the City of Columbia website.
Journey to Excellence Video Presentation
Hear from administrators, teachers, parents, and students about the quality academics, strong curriculum, and integrated spiritual and moral content of our school.
Windows users: click here for video
Mac version: click here for video